Born Again Butterflies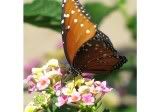 "Therefore if any man be in Christ, he is a new creature: old things are passed away; behold, all things are become new" – (2 Cor.5:17).
"That which is born of the flesh is flesh; and that which is born of the Spirit is spirit. Marvel not that I said unto thee, Ye must be born again" – (Jn.3:6,7).
   I recently bought my wife a new camera and she's been taking many pictures of butterflies. I think butterflies are some of the most beautiful creatures that God has created. And I began to meditate on the butterfly as a metaphor for the new birth and this sermon is the result.
   Jesus told Nicodemus that he could not enter heaven unless he was born again and Nicodemus was very puzzled by those worlds. He said – "How can a man be born when he is old? Can he enter the second time into his mother's womb, and be born?" – (Jn.3:4). To this day many people still have trouble understanding how that can be possible. I believe the butterfly can help them understand this better.
   The beautiful winged butterfly has been called 'winged flower' and 'flying gem.' They fly from flower to flower drinking sweet nectar and pollinating the flowers. Their wingspan ranges from 3/8 of an inch to 11 inches and are all over the world bringing much beauty to man. I marvel at these creatures created by our God. "The great God that formeth all things…" – (Prov.26:10).
   Nectar is the sweet liquid from flowers that makes honey. This sermon comes from being enlightened by the honey of God's Word.  "…. see, I pray you, how mine eyes have been enlightened, because I tasted a little of this honey." – (1 Sam.14:29). I sucked in this knowledge like a butterfly sucks up nectar.
   The butterfly's life begins as a starving, crawling, ugly caterpillar-worm that hatched from an egg. Caterpillars hatch having ravenous appetites and eat almost constantly. They eat leaves and fruit and destroy millions of dollars worth of crops every year. Caterpillars are part of God's curse upon sinful man – (2 Chr.6:28-Ps.78:46) "…The cankerworm, and the caterpillar, and the palmerworm worm, my great army which I sent among you" – (Joel.2:25). The destructive and evil caterpillar is a fitting symbol of sinful unregenerate man doing many destructive and evil things, especially with our mouths. We commit more sin with our mouths than with any other member of our bodies. "But the tongue can no man tame: it is an unruly evil, full of deadly poison" – (Jam.3:8). Eve used her mouth to have a conversation with the serpent-Satan and then used her mouth to eat of the forbidden fruit and committed the first sin and she was punished with death – "..and so death passed upon all men, for that all have sinned" – (Rom.5:12). We shall all go into the earth at death like a worm and the worms shall eat us up as it was written of Christ on the cross dying for our sins. "But I am a worm and no man…" – (Ps.22:6).
   Then the caterpillar enters the second stage – the dark cocoon or 'death' stage. The cocoon resembles a tomb or 'coffin' and signifies death and burial, for all men are sinners and will die. He spins the cocoon around himself and for several weeks appears quite lifeless and dead.
   But then comes the third stage when the former caterpillar is totally transformed into a beautiful, flying butterfly in the heavens, no longer crawling on the ground as a worm. The cocoon breaks open, the gorgeous butterfly emerges, pumps up its wings, and flies in the heavens. It is a new creature, transformed and changed by the process of metamorphosis. The ugly caterpillar-worm has been miraculously changed into a beautiful butterfly by God's wisdom of metamorphosis. He no longer is God's caterpillar curse but has been born again into God's blessing. He no longer is earthly, sensual, devilish, but is heavenly and godly and goes about doing good and not evil. "But God, who is rich in mercy, for his great love wherewith he loved us, Even when we were dead in sins, hath quickened us together in Christ, (by grace are ye saved;) And hath raised us together, and made us sit together in heavenly places in Christ Jesus" – (Eph.2:4-6).
   Metamorphosis means (to change into a different physical form, especially by supernatural means – to become transformed). The changes that occur in the life cycle of a butterfly are the most striking example of metamorphosis and scientists call it 'complete metamorphosis.'
   The butterfly is not only a symbol of a sinner born again and becoming a new creature by God's Holy Spirit, but is also the symbol of the death, burial and resurrection of Christ. It not only pictures the new creature that is miraculously created by the Holy Spirit inwardly, but also pictures the new, glorified body that we receive at the rapture. We are transformed inwardly, but we shall also be transformed outwardly. We are born again spiritually but we shall have a born again body as well. Then we shall obtain complete transformation. "Who shall change our vile body, that it may be fashioned like unto his glorious body…" – (Philip.3:21). O the wisdom of God and His ways past finding out.
   God has some type of metamorphosis planned for His humans and not just for butterflies. God will change his saint's bodies into immortal, glorified bodies like Christ's resurrected body. As it is written, "So also is the resurrection of the dead. It is sown in corruption: it is raised in incorruption. It is sown in dishonor; it is raised in glory: it is sown in weakness; it is raised in power: It is sown a natural body; it is raised a spiritual body. There is a natural body, and there is a spiritual body. And as we have borne the image of the earthly, we shall also bear the image of the heavenly. Behold, I shew you a mystery: We shall not all sleep, but we shall all be changed. In a moment, in the twinkling of an eye, at the last trump: for the trumpet shall sound, and the dead shall be raised incorruptible and we shall be changed" – (I Cor.15:42-44,49,51,52).
   We shall be changed into another form; from a caterpillar into a beautiful butterfly that shall never die, as it were. God's wisdom has prepared His kind of metamorphosis for His born again saints that have been washed from their sins in the blood of Christ. We'll fly away at the rapture to heaven to be with our Savior. We'll fly away like a born again butterfly. This is change we can believe in – amen.
I'll Fly Away
Some glad morning when this life is o'er,
I'll fly away;
To a home on God's celestial shore,
I'll fly away (I'll fly away).
When the shadows of this life have gone,
I'll fly away;
Like a bird from prison bars has flown,
I'll fly away (I'll fly away).
Just a few more weary days and then,
I'll fly away;
To a land where joy shall never end,
I'll fly away (I'll fly away).
Chorus:
I'll fly away, oh glory
I'll fly away;
When I die, hallelujah, by and by,
I'll fly away (I'll fly away).
   As two caterpillars were walking along, a butterfly flew over them and one caterpillar said to the other… "You could never, ever get me to go up in one of those things." Little did he realize that was about to happen to him, and it will happen to us also.
   As a symbol, the butterfly is one of total transformation. And it shows the amazing transformation that take place in every born again saint of God. We become spiritual new creatures in Christ immediately when we repent of our sins and truly believe on Christ in our hearts by faith. And we become creatures with a new body at the rapture of the saints.  Our mortal bodies will be forever changed to immortal bodies that will put a butterfly to shame. The victory of eternal life over death represented by the butterfly makes it a favorite image on old tombstones. Yes, God can make butterflies out of worms and we'll fly away to glory. We shall be king butterflies (monarchs) and rule and reign on earth – (Rev.1:6).
   It is written – "And the Lord God formed man of the dust of the ground, and breathed into his nostrils the breath of life; and man became a living soul" – (Gen.2:7). God formed an earthly body to live on this earth, and God will transform this earthly body into a heavenly body if we're saved by Christ. This vile body of death will be changed into a glorious body and raised again to eternal life. Then the saints of God will have 'complete metamorphosis' – amen. The butterfly symbolizes the death and resurrection of Christ and the resurrection of His body, the church as well.
   Are you saved and born again? Have you been miraculously changed into a new holy creature in Christ? "Therefore if any man be in Christ, he is a new creature: old things are passed away; behold, all things are become new" – (2 Cor.5:17). What is your spiritual birthday? "Which were born, not of blood, nor of the will of the flesh, nor of the will of man, but of God' – (Jn.1:13). "Being born again, not of corruptible seed, but of incorruptible, by the word of God, which liveth and abideth forever. For all flesh is as grass, and all the glory of man as the flower of grass. The grass withereth, and the flower thereof falleth away: But the word of the Lord endureth forever. And this is the word which by the gospel is preached unto you" – (I Pet.1:23-25). Consider these most important words when you see the butterflies flying from flower to flower. Are you a born again butterfly having God's spiritual antennae? "He that hath an ear, let him hear what the Spirit saith unto the churches" – (Rev.2:7).
   You are born the first time by the corruptible seed of your earthly father that will end in the grave. You must be born again of the incorruptible seed of your heavenly Father to receive a new transformed eternal body that will live forever. The Word of God's gospel of Christ is the living seed that will germinate in you and produce eternal life. Repent of your sins and believe in Christ in your heart by faith and be baptized by the Holy Spirit into the true body of Christ not made with hands. Water baptism can never save you and wash your sins away. First a born again Spiritual Transformation and then a physical transformation at the Rapture.
Be changed from a worm into a butterfly – be born again.